Addiction is a worldwide problem with an estimated 29.5 million people having a substance use disorder. Addiction and music impact similar areas in the brain, neurotransmitters and neuroreceptors. Music therapists working in addictions should understand of the neurology addiction and music to create effective music therapy experiences. This presentation will provide an overview of the neurology of addiction and music and offer a proposed neurobiological rationale for the use of music therapy in addiction treatment
Kathleen M. Murphy, PhD, MT-BC
Kathleen Murphy, PhD, MT-BC coordinates the music therapy degree programs at Loyola University New Orleans. She has over 35 years of clinical, research, and teaching experience. Her research interests are in music therapy treatment for substance dependence, and PTSD. She is a Fellow of the Association for Music and Imagery.
Faith Halverson-Ramos, MA, LPC, MT-BC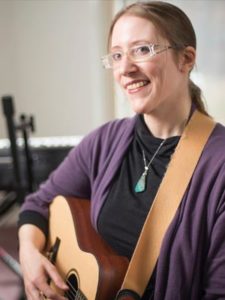 Faith Halverson-Ramos, MA, LPC, MT-BC owns and operates a community mental health-oriented music therapy practice in Colorado working with all ages and ends of the lifespan. Passionate about cultural exchange to enhance the quality of life for people around the world, Faith also serves as the Executive Director for the OCMT.